Obagi Blue Peel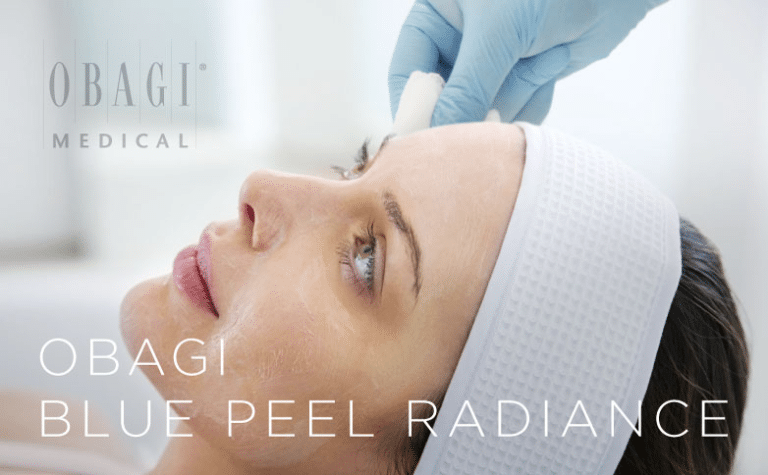 The Obagi Blue Peel® is a quick, in-office procedure that uses Trichloracetic acid (TCA) mixed with Obagi's blue base solution that monitors and slows the penetration of the peel. This is a medium depth peel, thus, it requires a minimal downtime of 7 to 10 days to heal. The Blue Peel helps with the following skin concerns:
fine to medium wrinkles
rough, uneven skin
blemishes and pigmented areas
acne scarring
photoaging
superficial acne scarring
pore size
overall skin refinement
Pre-peel Requirements 
All patients are required to use specific Obagi products for at least 3 weeks prior to the Blue Peel to better condition the skin for the peel, and to expedite the healing process afterwards. Based on consultation, Dr. Dragotti will advise how long each patient must be on the pre-treatment products and provide a prescription for Tretinoin. It is then advised to stop using the products 3 days prior to the procedure. 
Peel Procedure 
Due to its penetration depth, the peel procedure is uncomfortable. To lessen the discomfort, local anesthesia and oral sedation will be provided. The peel is applied in layers until the desired outcome is reached, then removed with a gentle cleanse. Fanning will be provided throughout the treatment to provide further comfort. You may not drive after this procedure, and it is advised to not take public transport home.
Post-peel 
A post-peel skin care regime will be provided to use until the peeling is complete. The duration and intensity of the peel will vary from each patient. On the following day of the peel, redness and slight swelling is common. In the following week to six weeks, depending on the completion of the peel, you will be advised to gradually incorporate your Obagi products used pre-peel. Your skin will look its best 4 to 6 weeks post treatment. A follow-up appointment will be needed to assess the skin and outcome of the peel.