Breast Augmentation – Saline and Silicone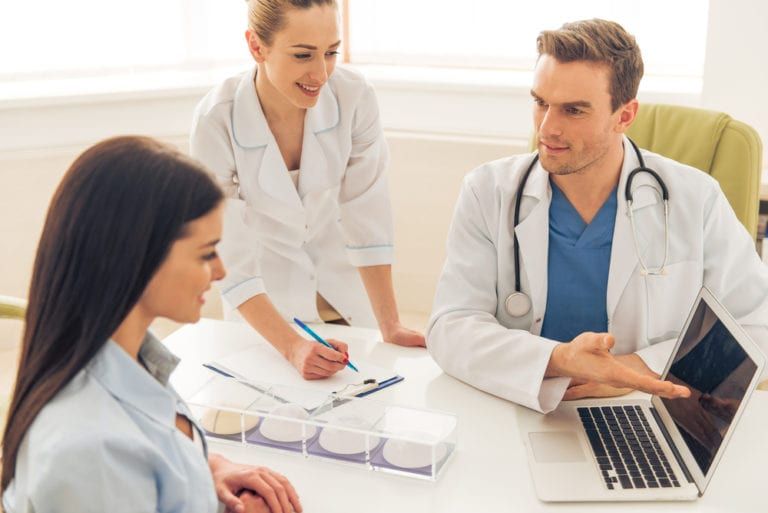 Breast augmentation is a surgical revision of the breasts to make them larger, improve symmetry and provide increased fullness. Also known as augmentation mammaplasty, breast augmentation is made possible using FDA-approved silicone or saline-filled implants placed above or below the chest muscles. The implant is composed of an outer flexible, silicone shell, and filled with either saline or silicone gel. The outer surface may be smooth or textured. Implants also have various profiles, shapes, and sizes to meet the needs of each patient in a customizable fashion.
There are many reasons for undergoing a breast augmentation, such as to enhance a breast that is naturally small or to restore volume that may have been lost as a result of weight loss, pregnancy or breast feeding.
Frequently Asked Questions
Am I a candidate for breast augmentation?
You may be a candidate for breast augmentation if you are self-conscious or bothered by the size, shape or symmetry of your breasts. The FDA approves the use of saline implants if you are at least 18 years of age, or your choice of saline or silicone implants if you are age 22 or older. Although breast augmentation will enlarge the breasts, the surgery will not alter the underlying basic defects in breast shape and form. If breast size and/or nipple position asymmetries are severe, additional procedures to further improve symmetry may be necessary.
What should I expect during a breast augmentation?
Prior to your procedure, you'll undergo pre-operative lab work, may need to have a recent mammogram or ultrasound if age 40 years or older or have a family history of breast disease, and be instructed to avoid food and drinks on the day of your surgery. You'll be placed under general anesthesia for the duration of your procedure, meaning you'll feel and remember nothing regarding the surgery. Depending on the type of implant you receive, your surgeon will make a small incision beneath the breast, around the nipple, or under your arm. The implant will be secured in place and your incision sutured shut. Most breast augmentations take no more than two hours and are usually performed on an outpatient basis.
Will I need to follow a post-operative instructions?
Yes. It is normal to experience some swelling and soreness in the days following your procedure, and you may be advised to avoid certain physical activity for several weeks after the surgery. You also may be instructed to take certain medications and to return to your surgeon's office for a follow-up visit within 6 to 8 weeks after your surgery.